To improve your resilience is to improve your ability to endure life's challenges and weather the symptoms of your mental illness and/or substance use disorder. Resilience can help you cope with stress and keep yourself focused on and committed to your goals.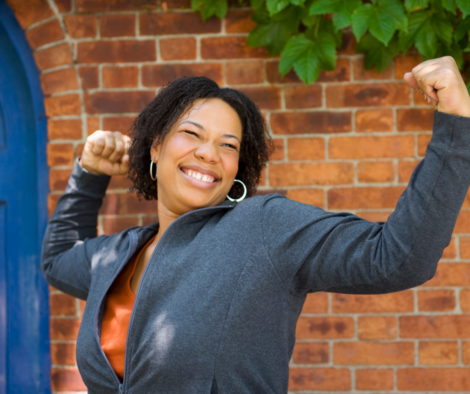 Managing Stress and Building Resilience
Though the beginning of the year is often a time of reflection and resolution, it's always a great time for committing to becoming more resilient.
Stress is going to happen—we all have it—but for some of us it comes on too strong and too frequently. Resilience will help you manage that stress by channeling it or lessening its hold on you.
There are a lot of great ways to do this.
Connect with your family and friends whether in-person, safely, or over phone or video call. These connections can reduce a sense of isolation, with the knowledge that you aren't alone. This is also a network you can call upon for help.
Access help when you need it. Canvas Health's mental health therapists and substance use counselors can help you cope with anxiety, stress, depression, and/or addiction, and can also help you set positive goals. Click here to request an appointment. 
Establish and stick to a routine. This can help you identify and accomplish the tasks that need to be done each day to keep you happier, healthier, and with less stress.
Positive thinking can keep you focused on things you can change and not dwelling on parts of your life that trigger stress and mental health and/or substance use symptoms.
Recognizing the good and being thankful. These reduce stress by keeping your focused on what you have and what you can control.
Unplug from media that contributes to your stress, maybe through its focus on negative current events or unrealistic life expectations.
Be active. Moving releases positive endorphins and can also be a great way to separate yourself from media or negative thoughts with new scenery.
Make time for hobbies, like reading, games, etc. These things nourish you and also serve as a break or refuge from the life things that cause you stress.
Reflect regularly on what's working and what isn't. Reflection is an effective way to identify and break cycles that cause stress in your life.
A lot of building resilience is taking care of yourself. A happier, healthier person can easier avoid, channel, or reframe stress when a particular stressor isn't adding or compounding an existing stressor.
By starting with a couple of strategies to build resilience from the above list you can avoid the stress than can come with too high expectations of yourself. Start small and slowly add strategies as you feel it's manageable. By gradually increasing your ability to do self-care, your project of being more resilient will have a greater chance of success.
---