Happy Pride month! Each year, June is a time to celebrate the LGBTQ+ community and its history. We celebrate their members' contributions, their value as neighbors and community leaders, and their struggle for acceptance and equal rights.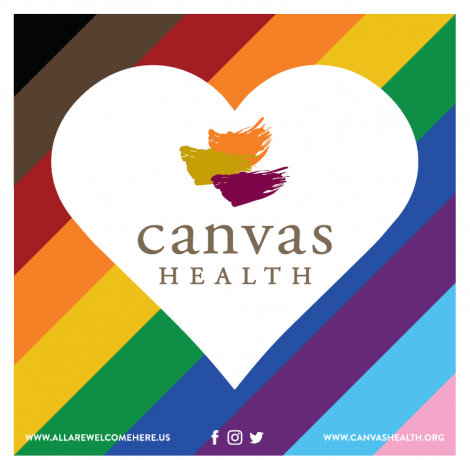 All Are Welcome Here
For Canvas Health and other community mental health centers, it's also a time to recognize and reflect on the health disparities within the LGBTQ+ community due to stigmatization, discrimination, and harassment Pride Month is meant to combat. These forces have a long history and are linked to higher rates in the LGBTQ community of mental health disorders, substance use, and suicide.
Canvas Health serves many LGBTQ+ clients in our outpatient mental health and substance abuse programs. To ensure their care is excellent, we take many intentional steps from intake throughout their time with us, from identifying clients' preferred name, pronoun, and gender identity to ongoing staff training to hosting conferences for our staff and staff from other agencies, such as in a recent "Waking to Gender Diversity" conference, featuring Dianne Berg, Ph.D. of the PRIDE Institute.
Canvas Health also identifies our providers that have significant interest and expertise in services for LGBTQ+ clients. For many clients that expertise is important to the therapeutic process.
At Canvas Health, we are committed to providing a respectful and inclusive environment for the LGBTQ+ community to receive hope, healing, and recovery. For individuals in and around the Twin Cities, the first step starts with a phone call or message to our intake staff.
---