Canvas Health is pleased to welcome an amazing team of Adult Case Managers to our agency. With their help, we will be able to do more to assist adults with severe mental health needs in receiving mental health, social, educational, employment, and other necessary services. The goal of Adult Case Management is to help these individuals to function and remain within the community.
Our newest employees embody all the best qualities of what makes case managers special. And through their individual roles, they will help Canvas Health to reach more clients.
Meet the Adult Case Management team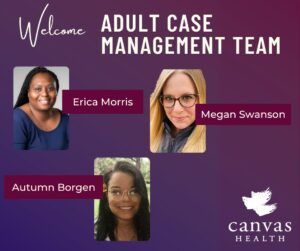 Erica Morris leads the team, providing oversight to the Adult Case Management and Housing Services teams.
Megan Swanson serves as our Washington County Adult Mental Health Case Manager. Megan is accepting referrals for clients who live in Washington County and have a PMAP.
Autumn Borgen is our Minnesota Community Healthcare Network (MCHN) Adult Case Manager. She works clients on brief 90-day case management services.
Supporting our CCBHC Certification
Adding this case management team is just one way that Canvas Health is expanding on services we already provide as a part of our Certified Community Behavioral Health Center (CCBHC) certification. Canvas Health is now one of 13 CCBHCs in Minnesota, and is authorized to provide CCBHC services to individuals on Medicaid in Anoka, Chisago, Hennepin, Isanti, Scott, and Washington counties. Check out our announcement here.
Learn more about Adult Case Management
Visit our Case Management page to learn more about eligibility criteria and the referral process for working with our case managers. In addition to offering case management for adults, Canvas Health also offers this service for adolescents and children.
If you have questions or need assistance, please contact Danielle Eliasen, Program Administrator, at deliasen@canvashealth.org.
Photo credit: by Freepik
---