What is the "holiday spirit?"
When you boil it all down, it's two things: It's love. It's hope.
It's about loving our families and working towards a better tomorrow, even when it's hard. The holiday season can be tough, especially for those struggling with their health or trying to provide basic necessities. But it's important to make space for joy and the holiday spirit, especially for families with children. By prioritizing health and wellbeing and refusing to give up, we can find hope and love in the midst of challenges.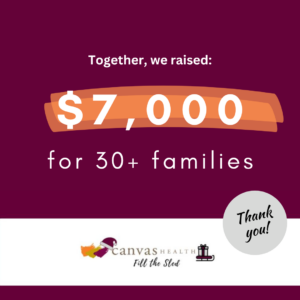 That's why Canvas Health hosts an annual Fill the Sled Fundraiser to provide a special holiday for their clients and their families. This year, thanks to the generosity of their staff and donors, they were able to raise over $7,000 and provide gift cards to 30+ families in need!
With those funds, we are able to provide gift cards to 30+ families in need. Families like the Wallaces* who are progressing through our Children's Mental Health Case Management program:
"The Wallaces exemplify the meaning of family. In addition to their grown children and grandchildren, they have extended their care to their grandchildren's friends believing it is better to have them at their house than on the streets. Despite financial, emotional, and physical challenges, they have never given up. They see a glass as half full not half empty."
Our staff also wrote about Corrine* and Marielle*, two other Canvas Health clients whose stockings were filled this year.
"Corrine has fought an amazing battle with her addiction to Fentanyl. She sought safe housing through SHARE for her children so she could complete inpatient treatment, and is currently in IOP Substance Use Treatment. Corrine is a wonderful mother who is committed to her sobriety and recovery for a better life for herself and her children."
Learn more about Substance Use Disorder Services and Housing Services
"Marielle has struggled with receiving adequate and appropriate state/county services to make ends meet, but has remained resilient, hopeful and determined. Though working with her therapist, she has fought through intense grief and loss that shows remarkable strength and resilience."
Learn more about Outpatient Therapy and Care Coordination
As with everything Canvas Health does, Fill the Sled is inspired by the community we serve. Staff from all service areas nominated patients for this program and included some of their stories. Despite their challenges, what stands out the most to us is that holiday spirit of love and hope.
*Client names changed to protect privacy.
---